I have a little cousin who feels more like a sister and friend for endless reasons from silly to profound. She's a halfsy like me and we have always bonded over our uniquely blended heritage - we can be as spicy as the loudest Puerto Rican but still freakout over Starbucks' seasonal drinks like the best white girl. Christina is one of the brightest, most talented girls I have ever known - she's book smart, insanely beautiful, and a triple threat actress, dancer, and singer. I think the thing that is the shiniest about Christina is her faith in Jesus. Innocence and purity of heart comes easy for her, and she's quick to serve others. She's one of those rare birds that gives a helping hand with a smile the size of Texas, and I feel endlessly thankful for her friendship. I adore her.
We are fools and don't live close, so whenever we get the chance to get together we do so like water bursting forth from a fire hydrate - we squeeze in laughs, cuddles, catchups and adventures. Christina's mom and dad, Mark and Blanca, have been some of my biggest advocates over the years. I turned to Mark and Blanca for advice when I was first tinkering with the idea of seminary years ago and they are a big part of the reason why I moved forward with the lofty dream. The Austin's bought a house show during our fundraiser, and we gleefully schemed a time to come out and do one in their new home in Lucas, Texas, just outside of Dallas. We decided to tack it on to the front end of our Alaska Trip, and got to spend the last few days here in land of longhorns and Texas pride.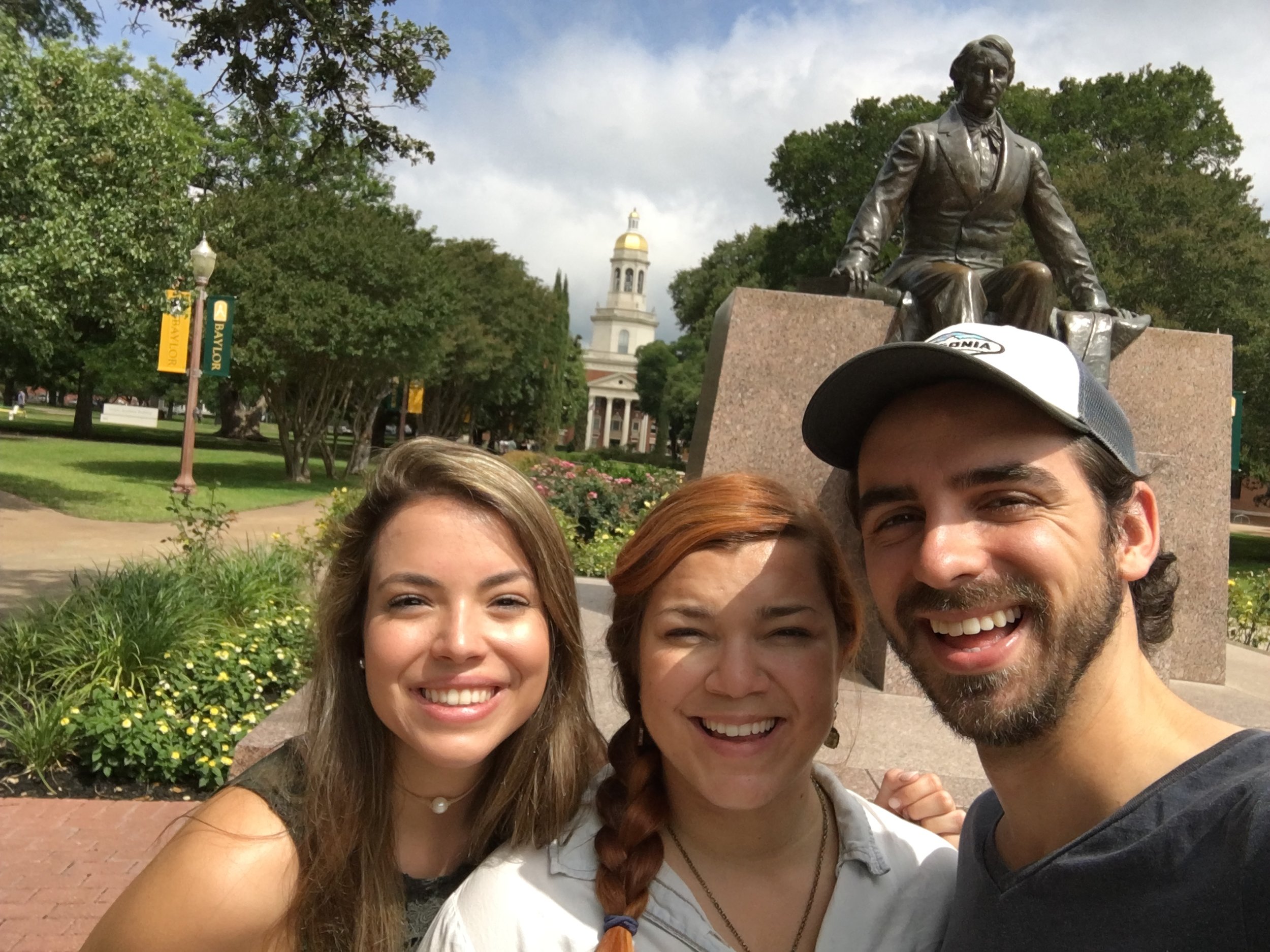 We got to go to church with the Austin's and enjoyed a wonderful Sunday School. It was so refreshing to worship in a new space and we had the best BBQ afterward. Our house show proved to be an unbelievably good time. Mark set up a volleyball court for us in the backyard, and we played a round of 3 against the tallest family I think I've ever met. They were from Chicago - do they grow them tall in Chicago? - and well...they dominated. It was comical. We lost and everyone had the silliest and best time. Afterward Daniel and I shared our story around the poolside and Daniel performed all of the songs on the EP. It was the loveliest day.
Today Blanca, Christina, Daniel and I woke up miraculously early and headed to Waco, Texas. Christina is an incoming senior at Baylor, and like every red blooded 28-year-old American - I am deeply obsessed with the one and only Joanna Gaines. We explored Christina's world at Baylor and headed to the Silos for lunch. Johnnyswim was playing over the crowded and sunny lawn outside of Magnolia Market - and I CRIED. Then I went into the market and cried again. My heart just gushed it was so lovely.
Already, I feel the tendrils of grieve start to loosen, and am blown away by the rest that I'm quickly experiencing on this trip. I sense hope rising, and for that I feel very grateful.