Can you believe that the most wildlife we saw was not in Alaska, but on the Alaska road in Alberta and the Yukon? We saw 41 bears, dozens of wild buffalo and moose, and spent a dark evening avoiding elk on the highway by our headlights lighting up their eyes left and right.
With that being said, Alaska did not disappoint. The entire state is one big national park. Where we drove hundreds of miles to get to a destination like Glacier National Park in Montana - it seemed that at every turn we hit a site of equal beauty as a Glacier that didn't even have state park status.
Denali National Park & Hatcher's Pass
On the hunt for Mt. McKinley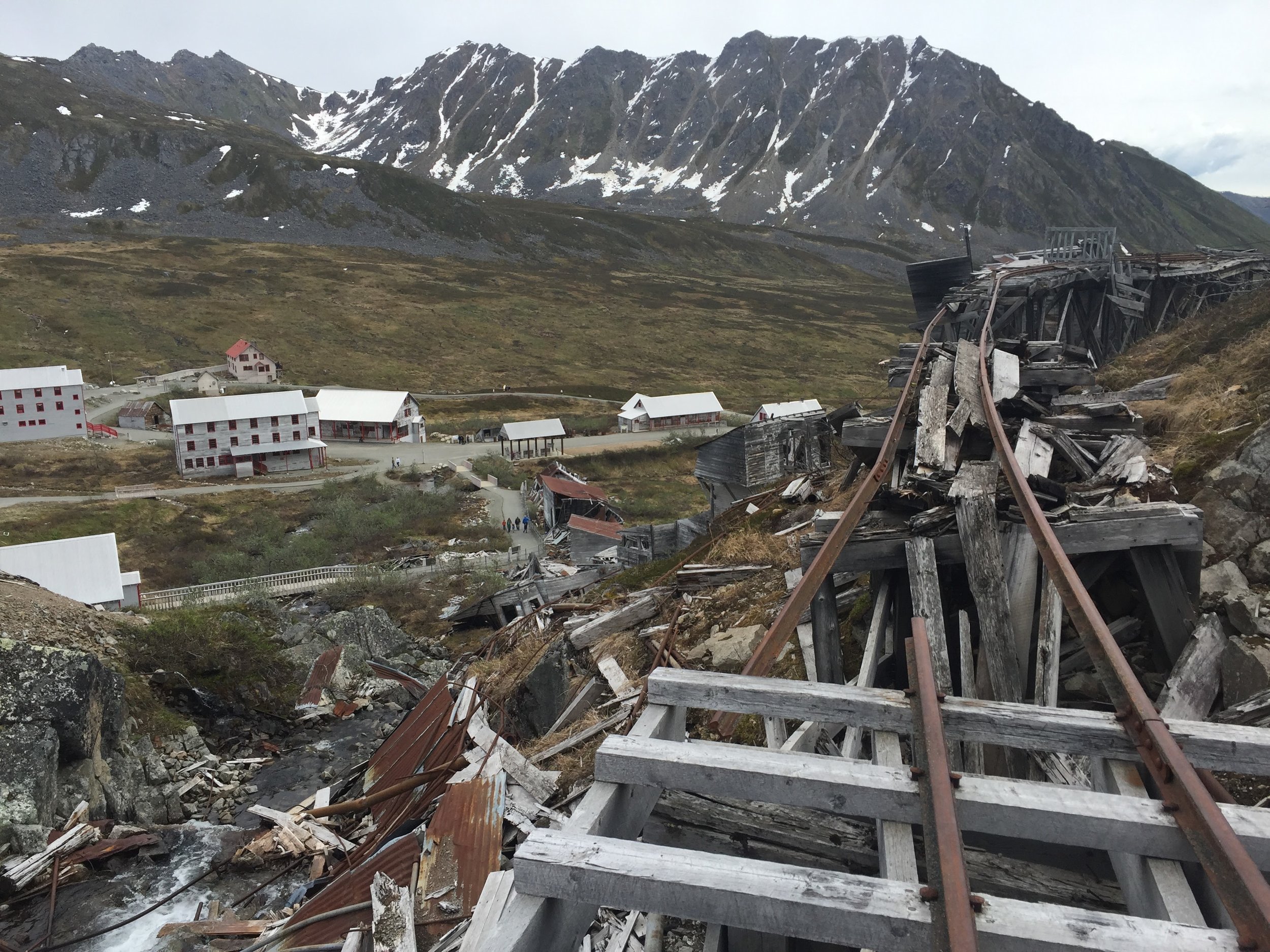 We visited Denali first. We spotted hundreds of Caribou (our only siting on the trip) and a blonde Grizzly Bear. We watched patiently as a mother with her two cubs meandered toward us. We searched the skyline for Mt. McKinley, the highest peak in North America, but couldn't find it anywhere and were shocked that no one was talking about it. We were halfway through the tour when the guide was speaking about climbers attempting the dangerous trek up the mountain Denali when we realized...McKinley is Denali. Obama had changed the name not long ago to the original name, Denali, to honor the Native Alaskans.
After Denali we visited some old friends of Sherei's, Nathan and Marissa Chud. Spending time with them was a fresh breath. Being with friends for the first time in 3 weeks would have been enough, but they spoke life into our hearts as we caught up and shared encouragement with one another of our next seasons coming (they are missionaries in Lebanon). As we spoke of the adoption fundraiser and preparing for the upcoming tour, he pointed to his "We Are Pioneers" shirt Sherei designed and then to the mountain behind us; "they look a lot alike! That's Pioneer Peak." We were thousands of miles from home, but felt like we were exactly where we were supposed to be.
They asked us where we had been so far. Only Denali. They said that we had seen the least that Alaska has to offer. We still had the Kanai Peninsula with Seward and Homer, and their secret favorite spot: Hatcher's Pass. Hatcher's turned out to be one of the most magical places on our trip; a gold mining pioneer village in a bowl high up in the mountains.
Seward
Sled dogs, Glaciers and Humpbacks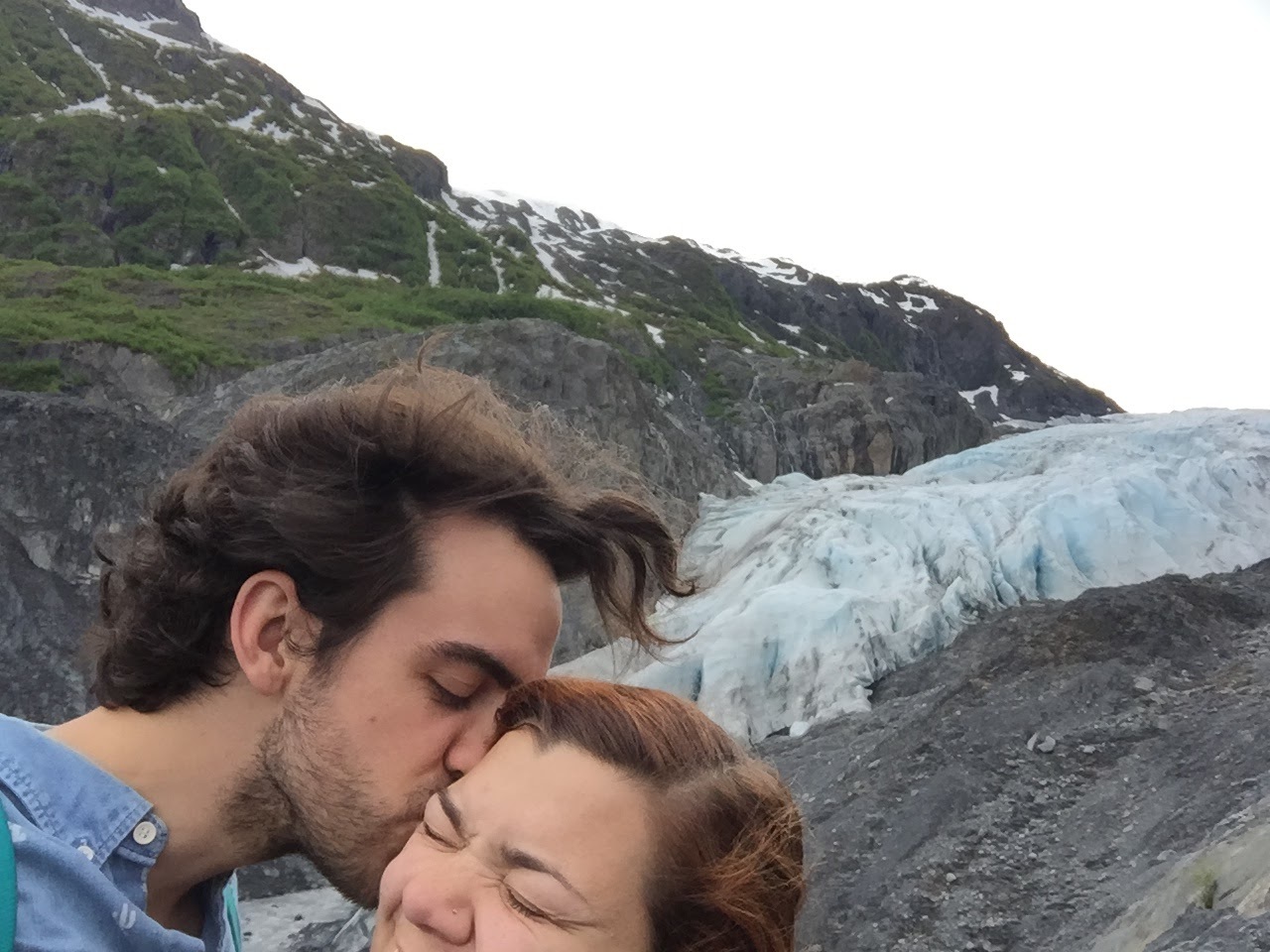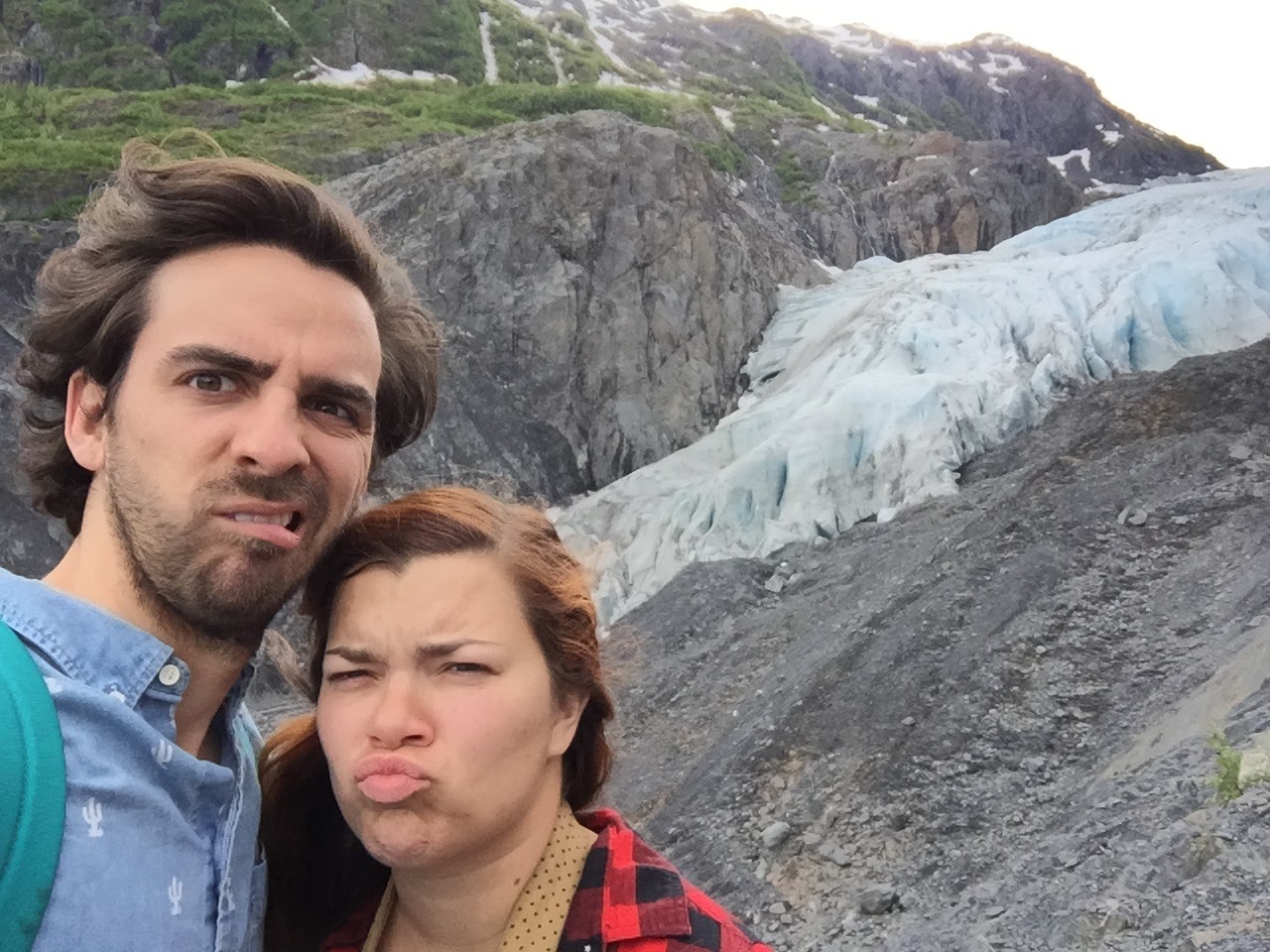 We had been hearing since before we left about this famed drive down the Kenai peninsula - from Anchorage to Seward. It was worth the entire trip. After an hour of coastal Hwy 1, Alaska style, I savored a locally sourced elderberry pie, watching a sea plane soar over me and land in the lake as Sherei slept beside me. I woke her up as we pulled up to the tunnel that was the only road to Whittier - it was Rivendell; dozens of waterfalls rolling down the mossy walls that led to the foggy fjord below.
Onward toward Seward we found what was most likely Sherei's favorite stop - the Iditarod sled dog training facility. 5 years ago when we were in California Sherei found us jobs with one of these places (which we didn't end up taking)- it could have even been this one. Now we were finally there. We learned the vigorous training schedule of the musher, who took extensive time to tell us his tales from the Iditarod he had completed. There are more people who have been to space than have completed the Iditarod, a 1,150 mile race across the harsh Alaskan landscape. Teams race through blizzards causing whiteout conditions, sub-zero temperatures and gale-force winds which can cause the wind chill to reach −100 °F. We stared in awe at the walking wintery wonder of a man before us and listened to his tales as the future champion husky puppies in our arms melted our hearts.
We stopped by Exit glacier for our closest look yet at a glacier. We drove past a sign as we approached a mile out with a date from the 1800s, then passed dozens more as we got closer - 1907, 1934, 1971, 2005. We realized this is where the glacier used to reach, having dramatically melted through the years from global warming. The glacier is the architect of this land. They carry nutrients to the waterways that feed the food chain that salmon feed from, which we and the bears feed from. The stark mountains soaring above us and the valleys we road through were shaped by them. And then we arrived in Seward to Kenai Fjords National Park - where we would thank God for the glaciers' work more than anywhere else.
A fjord (think Frozen), we finally learned, is a deep valley carved by glaciers that filled in with water. The unique thing about fjords is that they make the water extremely deep right beside the shore, allowing large cruiseliners to come in (this is where you will land if you take an Alaskan cruise), but more importantly allows for an extremely biodiverse marine life with humpback whales sneaking right up to the town's edge. We took a wildlife cruise and were overwhelmed with the amount of wildlife seen: in one 360 degree turn I saw a bald eagle, and mountain goat with a baby, a humpback whale, puffins, and sea lions. That evening we began a song about our trip around the campfire on the shoreline, and a sea otter scooted by on his back bathing himself. I love writing with Sherei.
Wild river, run wild
Water falls if you let if flow
From the glacier to the coast
And I
When I wandered lost
Is when I finally found
That I
When I wanderlust
Is when I finally feel I'm found
Homer
"A quaint little drinking town with a fishing problem"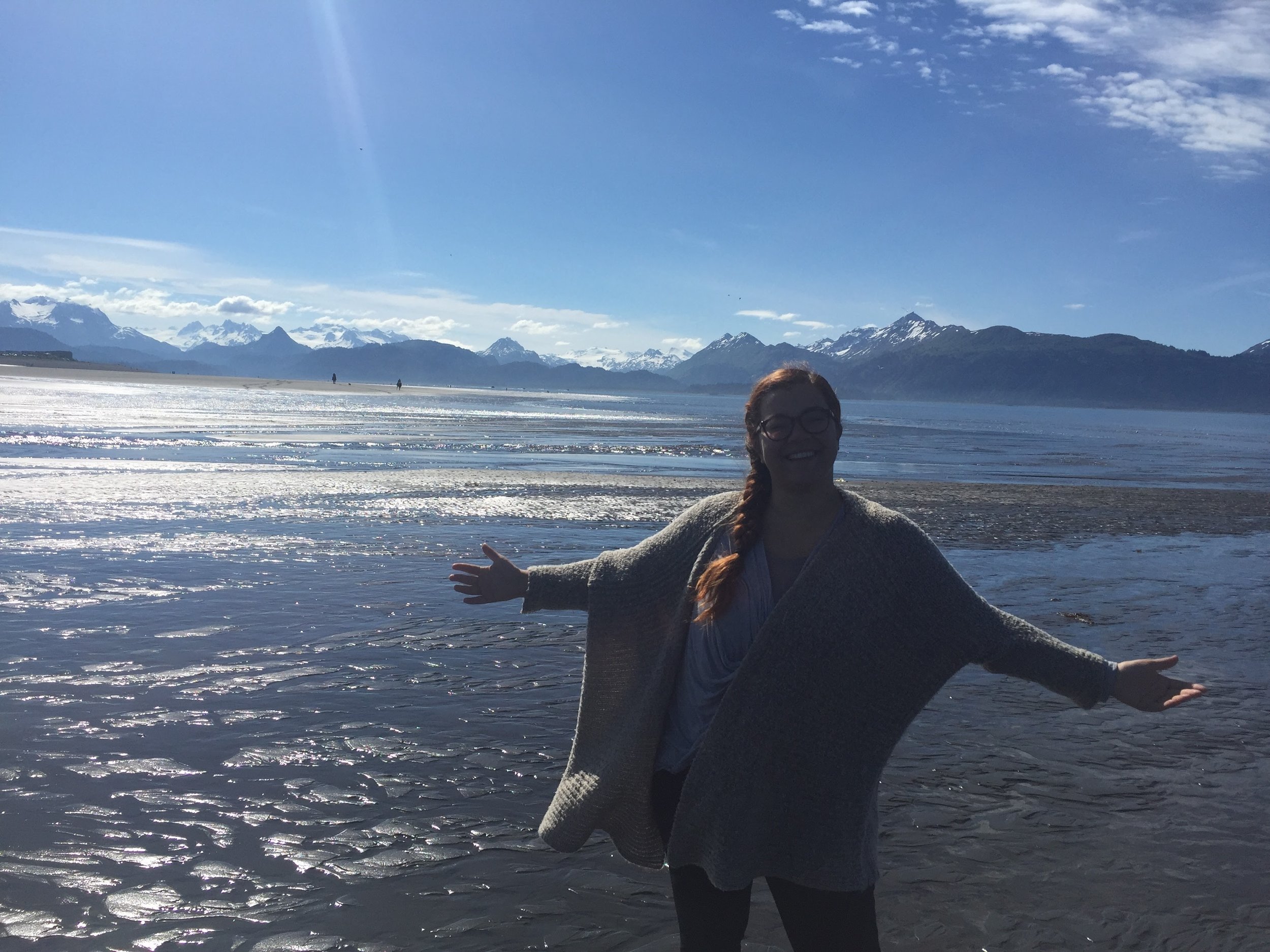 We stayed longer in Seward than anywhere up to that point. And it began to feel refreshingly familiar. But there was more to see. We decided our final city for the trip was Homer - a drive to what felt like the edge of the earth. Once there we drove a mile down the fishing spit and found our spot on the beach to camp for a few days. The next morning we rented bikes in town and rode to the end of the spit, stopping to rescue our tent that we discovered bent over on itself held down with a few rocks, moments from blowing away into the bay. To Sherei's delight, we went on a date at the most talked about restaurant in town: the Little Mermaid - which booked up days in advance. We walked up to chance if we could get a last minute table, and realized it only had 4 tables...no wonder it was booked up! They gave us a spot at a small bar and my Ariel loved it.
That night a little boy with wild red hair wandered over to our spot, introduced himself, and after a pause began proudly with "I already know one story." He shared the scary campfire story of a 6 year old and we were inspired by his courage - the ignorant bravery of children who make friends on any playground. We made a fire and invited our neighbor, a lone biker from Canada, to come join us. We ended up hanging out the following night as well and were more entranced than the best Netflix binge as we learned of another's life so different than ours. We laughed and listened and he invited the other biker by him to join. How had we traveled across the world and these were our first new friends?
The final day we took a horseback trip in the mountains with a jolly Ron Swanson...named Ron. He moved to Alaska to do whatever he wanted. It was 50 degrees and he was in a t-shirt. He said when it is 20 he puts on a jacket. He knew more about economics and history than my college professors, and gave us a lesson on the past, present and future of American currency - from the Gold Reserve Act to the 2008 financial crisis. Shockingly, it was riveting coming from Ron. He uses his 3 giant draft horses to hunt moose with when he isn't giving guided tours. He took us 2 hours longer than we paid for and let us gallup with the horses. We exchanged information and plan to keep up in the winters when things get slow with his business; the time when he reads his history textbooks.
Matanuska Glacier
Where the road ends,
and the woods become wild again,
is where we begin
Where the road ends, and the woods become wild again, is where we begin. That is what it means to me to be a pioneer. And much of this trip was not me being brave enough to do it, but forcing myself to in fear - and hoping my spirit catches up. I faked bravery until I found it again. When you lose people you love, and death begins to feel so close, you can clam up and clasp tightly to all you hold dear for the sake of safety - above all else. I felt this creeping cancer of worry overtaking me, and Alaska was the chemo to kill it.
As we came to our last adventure in Alaska I was faced with a final task. We drove down to the toe of the 26 mile Matanuska glacier and got out to face it on foot...in our chacos. Let me just take an aside here to say that if you ever decide to go to Alaska in the summer - you still need to bring a heavy jacket, insulated underwear, gloves, and hiking boots. It was scary and slippery. Was I going to play to the caution rising and whipping around in me - slapping the pioneering child within that was now awake again but still timid? We saw the guided teams crunching onward through the ice ahead in their clamp-ons and helmets, and we sneaked smeagol-like around the blue ice chunks behind them - treading our own safe yet so-not-safe path toward the glacier face. We arrived in giddy bliss to what we had been dreaming of since we saw our first glacier from a far in Montana - a white and blue kingdom of Alaskan ice enveloping us on every side. We got some judgmental looks from the packs of people who paid $150 to take the tour, but I couldn't help notice a few of the kids - and even a few older gentlemen look at the freedom of our journey with childlike yearning and jealousy.
Learning How to Die
Reflections from the road
Many have asked what I learned while on the road. What I walked away with. This next part may be hard for some to read - so if this past year has been hard for you I recommend having someone else read this first and advise you accordingly.
Here in Nashville, 13,000 miles later I feel one step closer to freedom; a freedom from fear as perfect love slowly powers down on and envelops me like Matanuska. I had 7 funerals in the past year, which birthed in me a slowly billowing, crippling anxiety of death. I had a fairly constant headache for 2 months in one spot and went to get an MRI. I had chest pain that had me waking in the night in irrational panic that I was having a heart attack, which increased my heart rate which increased my panic. My mind slipped slowly toward recognizing these moments as irrational. One night developed into a full-fledged breakdown. If you know me, you know how abnormal this behavior, or any anxious behavior, is for me. I am the guy that everyone thought was a pothead in high school because I was so chill - despite having never touched drugs. I couldn't help thinking if so many bad things can happen to good people, how can Jesus say "do not be anxious about anything"? I am slowly landing with an answer there, but I do know why he said it: anxiety is bred in the absence of trust. You can't trust Jesus 100% and have anxiety plague you. For me, the foundational trust of my faith had been hammered hard 7 times and I, the structure above, was visibly shaken.
Death is the great equalizer. It is the one guaranteed thing to all humanity. Every human and therefore every religion has an opinion about death. Most say either:
a). Accept death. Make peace with it, and welcome it like an old friend. The naturalists (read the poem Thanatopsis) and the Buddhists line up with this.
or
b). Conquer death. Their belief systems give ways to defeat and deny death his victory. We find this with the Hindus and Voldermort (along with most other power-hungry leaders).
Yet both of these systems rely on your efforts; a self-reliance that you must muster up to either accept or defeat death. The problem is that both of these approaches leave you rife with anxiety.
But the truth is different. God doesn't like death. He doesn't want us to just accept it, nor does he want us to fight and overcome it. Both of these are shadows of the real divine perspective and strategy. The truth is that Jesus enables us to both accept death and defeat death. Yet the outcome is not reliant on our efforts - he has done it himself. He conquered death for us, and we are commanded to rest in the peace of knowing that, so that whether we live or die - it is well. What is required of us is faith, or you could say, trust. Trust happens within relationship, not religion. And our intimacy deepens as we realize that he weeps for the deaths of this age, and that one of the main reasons he came was to put death in his grave (2 Timothy 1:10, 1 Corinthians 15:24-26).
And now, with that lens, everything changes. Our now changes. Our anxiety of our own deaths or the deaths of our loved ones fades with trust in Jesus and his work in resurrection. And the ones that have passed we grieve for - but not as those who have no hope (1 Thessalonians 4:13).
Much of the life I have been living this summer has been learning how to die. If that is a journey you are currently walking or have walked as well, I hope the words above are a comfort to you. I encourage you to go to professional counseling - as it has helped Sherei and I so much, lean in with vulnerability to the community of Christ that can be vessels of God's grace and hope that act as salve to your wounds, and never give up pioneering - for your family, your friends and countless unseen others behind you who are waiting on your path through what feels like a cold-as-Alaska wilderness. Warmth and light are waiting on the other side.
With love,
Daniel